Oregon's recreational marijuana sales have passed the $100 million mark, and that's just between January and the end of July.
Although rec sales began at medical dispensaries last October, the state didn't begin taxing those sales until January, at 25%. The 2016 sales figures for the first seven months are in line with the $180 million-$220 million in retail sales the Marijuana Business Factbook 2016 projects for the entire year.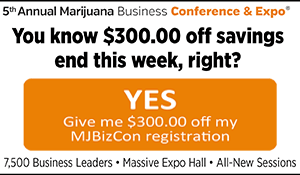 The total sales figure at the end of July is an estimated $102 million, according to the Oregonian.
Sales…
CONTINUE READING: Click Here to Continue Reading Article …
---
http://www.medigrow.org/wp-content/uploads/2015/12/Logo-Medigrow.png
0
0
Marijuana Business Daily
http://www.medigrow.org/wp-content/uploads/2015/12/Logo-Medigrow.png
Marijuana Business Daily
2016-08-23 16:08:02
2016-08-23 16:08:02
Oregon Rec Marijuana Sales Pass $100M Mark Through July