The five medical cannabis dispensaries in the nation's capital could see a big boost in sales if Washington DC Mayor Muriel Bowser gets her way.
She wants the city council to double the amount of MMJ patients are allowed to purchase each month, to 4 ounces from 2 ounces. City lawmakers must sign off on the change.
Bowser said the change would help accommodate the needs of patients, the Associated Press reported.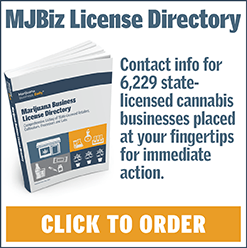 As of Sept. 1, 3,986 patients were registered with the city's MMJ program, according to Washington DC statistics. To serve those…
CONTINUE READING: Click Here to Continue Reading Article …
---
http://www.medigrow.org/wp-content/uploads/2015/12/Logo-Medigrow.png
0
0
Marijuana Business Daily
http://www.medigrow.org/wp-content/uploads/2015/12/Logo-Medigrow.png
Marijuana Business Daily
2016-09-23 03:30:55
2016-09-23 03:30:55
DC Mayor: Double Amount of MMJ Patients Can Buy