A Maricopa County Superior Court judge has thrown out a lawsuit aimed at keeping a recreational marijuana legalization initiative off the Arizona ballot this November.
The plaintiffs behind the suit promised to appeal their case to the Arizona Supreme Court, the Eastern Arizona Courier reported, signaling the legal battle over recreational legalization isn't over.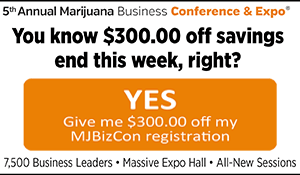 Seth Leibsohn, chairman for Arizonans for Responsible Drug Policy, which is behind the suit, said the legalization initiative "perpetrates a fraud on the electorate."
But J.P….
CONTINUE READING: Click Here to Continue Reading Article …
---
http://www.medigrow.org/wp-content/uploads/2015/12/Logo-Medigrow.png
0
0
Marijuana Business Daily
http://www.medigrow.org/wp-content/uploads/2015/12/Logo-Medigrow.png
Marijuana Business Daily
2016-08-22 12:41:48
2016-08-22 12:41:48
Arizona County Judge Tosses Lawsuit Targeting Rec MJ Initiative